A cheap bundle of useful perks for avid War Games players. All perks stack with all other clearance passes.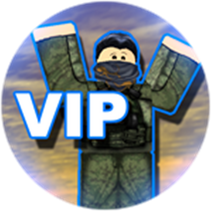 10% XP boost to rank up faster than everyone else
Fill your pockets faster with a 25% daily gift gold bonus
Get 20 gold every time your ROBLOX friends open a daily gift in your server
Fake items are 50% more likely to be revealed when unboxing at GUNS R US
[VIP] prefix in chat
Cost : 29 robux [PRE-ORDER 30% OFF]
Ad blocker interference detected!
Wikia is a free-to-use site that makes money from advertising. We have a modified experience for viewers using ad blockers

Wikia is not accessible if you've made further modifications. Remove the custom ad blocker rule(s) and the page will load as expected.