For the soldier with deep investment into the war effort. Awesome perks that stack with all other clearance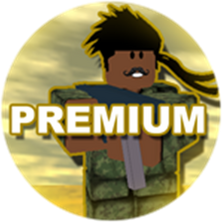 gamepasses.
20% XP boost that stacks with all other gamepasses
Play the game modes and maps you want with an extra vote during next round voting. (Stacks with exec)
wice as likely to be the Commando or Boogeyman on respective game modes
Bypass all Intel requirements on "My Soldier" items
[PREM] prefix and gold text in chat
Cost : 749 Robux [PRE-ORDER 30% OFF]   
Ad blocker interference detected!
Wikia is a free-to-use site that makes money from advertising. We have a modified experience for viewers using ad blockers

Wikia is not accessible if you've made further modifications. Remove the custom ad blocker rule(s) and the page will load as expected.