For the wholehearted War Games patron, unmatched perks that stack.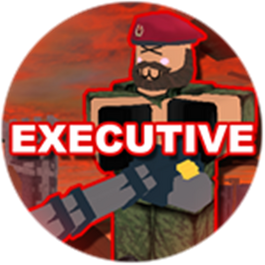 30% XP boost to reach the highest ranks faster (stacks with other clearances for 60% total)
2 bonus executive votes during next round voting (stacks with Premium Clearance for 4 total votes)
Your name in the lobby and your rank emblem in lobby & chat appear as awesome blood red, regardless of your rank
Executive-exclusive Illumina sword you can use in the lobby to fling other players (doesn't do damage)
Executive-exclusive Blood Warrior II skin for your character
Nothing gets past you! Most fakes in GUNS R US unboxing will be revealed
[EXEC] prefix and red text in chat
Cost 4,950 robux
Ad blocker interference detected!
Wikia is a free-to-use site that makes money from advertising. We have a modified experience for viewers using ad blockers

Wikia is not accessible if you've made further modifications. Remove the custom ad blocker rule(s) and the page will load as expected.